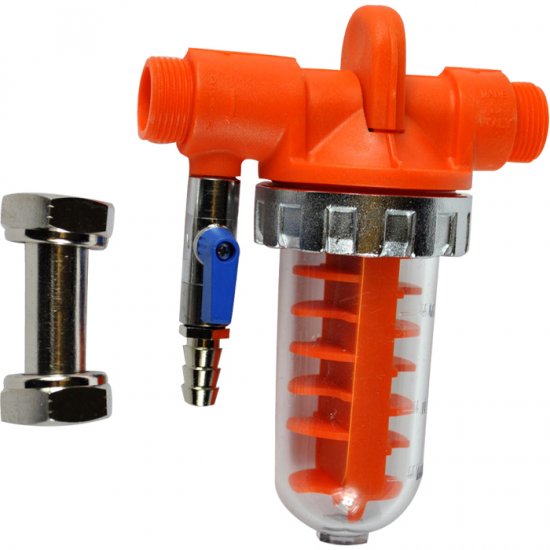 New
Magnetic Filter Central Heating Cleaner (Magnaclean) Power Flush
Stock:

In Stock

Model:

meg-flex
Products Sold: 0
Product Views: 3509
Todays Tools Magnetic Flexi Filter
• The design incorporates an externally removable magnet, therefore preventing direct contact with your hands
• Easy installation and simple servicing saves both time and money
• The drain off outlet allows for quick and easy removal of the accumulated metal oxides. It also incorporates a "bleed valve" to allow the injection of chemicals into the circuit.
Developed to protect the boiler and heating system from harmful iron oxide and sludge build up.
When used in conjunction with flushing machines the Magnetic Flexi Filter reduces the time taken to power flush the system and also reduces the amount of water used.
The MAGNETIC FLEXI FILTER can be installed permanently into the heating system or used in conjunction with any flushing machine.
The MAGNETIC FLEXI FILTER provides protection by removing black iron oxide from the heating circuit thus increasing efficiency of the heating system
The MAGNETIC FLEXI FILTER is unique "externally removable" magnet construction allows the iron oxide to accumulate around the magnet core. The transparent housing allows for visual inspection of the iron oxide retention in order for the magnet to be removed from the device, the iron oxide os then free to be flushed from the filter using the outlet valve.
Magnetic Filter easily installed into Power Flusher or central heating systems.
Supplied with 3/4" double swivel.